Baby Hazel: Beach party game
Follow us on Facebook and Youtube: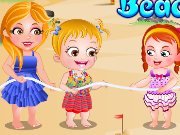 Description: Baby Hazel: Beach party
What do you think, is it easy to be ready for the party if you're not prepared for it in advance? Baby Hazel thought that it is easy, but it turns out that it takes a lot of time, and demands help of your friends. In this game, the girl was invited to a party, but she is not ready at all. What can she do? A friend comes to help her. She will help Baby Hazel to do her hair, to choose a dress, to do manicure and light makeup. No one will refuse such an assistance, won't he?
To play and help the girls you will need only the mouse. Watch the prompts that appear on the screen and guess the actions that are required from you.
Baby Hazel: Beach party game walkthrough: