Baby Hazel Winter Fun game
Follow us on Facebook and Youtube: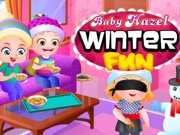 Description: Baby Hazel Winter Fun
Time passes and the snowy winter has come. At this time, Baby Hazel got bored because she had nothing to do at home. She wants to go outside and see how the snow has changed everything around. She wants to enjoy the snow, play snowballs, make a snowman, and also go skiing. Mom is trying to persuade her daughter not to go outside as it is snowing heavily. Plus, Mom decided to make some delicious cookies for Baby Hazel. Meanwhile, the girl decides to start making a snowman out of paper. Mom made delicious cookies, and the girl has already finished making the snowman. It looks like everything is going very well and heavy snow has stopped falling outside. Baby Hazel goes outside! Join her and have fun with her and her friends on the street.
Played: 15030. Added: 14-04-2021, 02:06.. Categories:
Baby Hazel