Baby Hazel Ballerina Dance game
Follow us on Facebook and Youtube: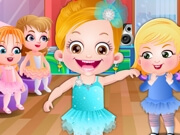 Description: Baby Hazel Ballerina Dance
Baby Hazel is still very young and her life is full of unexpected and happy moments. And today is no exception. The girl's mother invited her to start doing ballet. Hazel supported this idea and is looking forward to the moment when they begin to study with the teacher, and she will become a little ballerina. But first, the girl must take a shower. Mom brought a lot of toys here to make the bathing fun. Mom prepared a lot of surprises for her. Do everything so that the girl is not too worried before attending ballet classes. Then we go to the hall for ballet classes. There will be many other children there, and Baby Hazel is very happy about that. Help her do great ballet and learn new moves even though she's completely new to it.