Baby Hazel Flower Girl game
Follow us on Facebook and Youtube: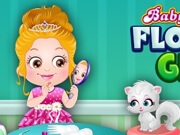 Description: Baby Hazel Flower Girl
Baby Hazel is a very funny and curious girl. She loves everything new and interesting. She recently found out that her aunt was going to get married and proposed to Hazel for her. Moreover, the girl can take part in the wedding ceremony. She will carry flowers! Hazel really liked this idea, and she is waiting for that day! In the meantime, the girl and her mother have new interesting concerns. She needs to go to the store and buy a dress, shoes and jewelry in which she will be present at the wedding. In addition, you need to do makeup and hair styling. This is a new experience for her, and she needs your help. Help her with the choice and advise how to do it will be better in your opinion. In the process of preparing for the wedding, the girl still finds time for entertainment. She will even play with her pets. Plunge with her into this wonderful atmosphere of waiting for the holiday!