Back to the Candy country 2 game
Follow us on Facebook and Youtube: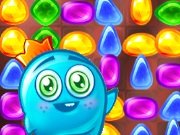 Description: Back to the Candy country 2
Welcome to the Candy country again! In the first version of the game Candy country. Here you will find new tasks, beautiful levels and delicious candy. Your task in this game is to remove jellies from the field. To do this, choose three or more sweets in a row. The more candy removed from the field, the more points you can earn.
At the beginning of the game you can see a small training tips. And if you know English a little bit, the game will go very easily for you.
Control the game only with the mouse. Click the candy and watch as they disappear from the field, and you get more points playing this game.