Barbie Perfect Pumkin Pie game
Follow us on Facebook and Youtube: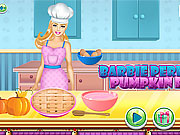 Description: Barbie Perfect Pumkin Pie
You all know that Barbie is one hell of a fashionista and don't miss any fashion show. And did you know that Barbie is well versed in the preparation of cakes? Game Barbie pumpkin pie will teach you not challenging recipe and make a cake. And it doesn't matter if you don't know the recipe for this dish! Barbie kindly shares them with you. For each stage of preparation of cake, you will get stars. Very good if you get three stars for all stages!
If you don't understand how to play this game, I will now explain. Use the mouse to perform simple steps for cooking pumpkin pie. Barbie perfectly explains what to do now and you'll get all three stars that are competently and accurately repeat all her instructions. Enjoy this game and try another our
fun girl games
.
Played: 63999. Added: 20-02-2016, 17:08.
Play other games from this developer:
SueFun.com
. Categories:
Barbie
Cooking