Super-barbeque game
Follow us on Facebook and Youtube: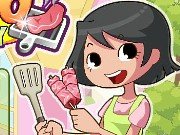 Description: Super-barbeque
Everybody loves a barbecue. How pleasant it is in the nature when the weather is good, eat meat fried on the fire. In our barbeque cooking game for girls you can become the real owner of the barbecue cafe, and cook tasty meat for your visitors.
How to play the game "Super-barbeque":
The game is controlled with the mouse. Your task is to serve all customers, before the time runs out. Click on a product you want to roast, move it to a roasting pan, click again to leave it. When a green arrow appears, click the mouse to turn the piece, when the meat is ready, click on it to serve customers. With the money you can equip your cafe.
Good luck!
Played: 40968. Added: 12-05-2011, 10:06.. Categories:
Cooking