Cooking school: homemade ice cream game
Follow us on Facebook and Youtube: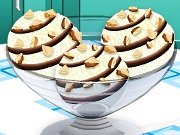 Description: Cooking school: homemade ice cream
Hi! Glad to see you again in the cooking school! Today Sara will show you in the game how to make homemade vanilla ice cream quickly and easily! Look for clues and follow all Sara's instructions quickly without hesitation to get the highest score!
How to play:
on the right you will see the panel which shows what action is needed now to make the ice cream. Do it all right and earn bonus points!