Cooking school: barbecue game
Follow us on Facebook and Youtube: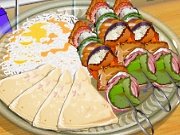 Description: Cooking school: barbecue
Do you love the smell of barbecue? Today Sarah from cooking school will teach you to cook barbecue. To do this, take a short course and five minutes later you're already able to do it all by yourself!
How to play:
In this game you will learn to make the barbeque in Sarah's cooking school. And if you love to cook and know how to cool, then you will get a lot of stars and points at the end of the game. How many stars and points have you scored?