Cooking School: roll California game
Follow us on Facebook and Youtube: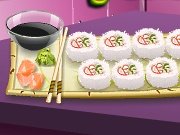 Description: Cooking School: roll California
Most girls love sushi, this meal is not only extremely tasty but it is also very useful. When you are unable to attend the sushi bars and restaurants, this fascinating online game for girls is going to help you. Here you can learn how to cook this perfect Japanese food at home.
How to play the game "Cooking School: roll California":
To control the game use the mouse. The game is in Russian, so you will understand everything you have to. Follow the instructions of the chef and cook excellent sushi. For the beginning cook rice, then cook the stuffing. The game has several levels, the time of the level is limited.
Played: 54450. Added: 17-10-2011, 02:19.. Categories:
Cooking