Cooking School: Stuffed mushrooms game
Follow us on Facebook and Youtube: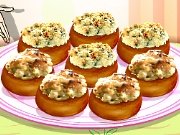 Description: Cooking School: Stuffed mushrooms
We are glad to see you again in another cookin game from a "Cooking School" series. Today you will learn how to cook a great snack, which is suitable for an elegant buffet table and, for simple get-togethers with friends, it's stuffed mushrooms. This food is quite simple to cook, but it does not affect the taste. Having tried them once, you'll want to cook them again and again.
How to play the "Cooking School: Stuffed mushrooms":
Follow the instructions of the chef, and you will succeed, but remember that the time of the game is limited, so you'll have to hurry just a little. The chef will teach you to cook two differentstuffings for mushrooms.