Stuffed peppers game
Follow us on Facebook and Youtube: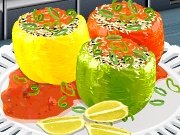 Description: Stuffed peppers
Get ready to learn a new recipe and please your close people with the new tasty thing! Today Sarah from cooking school will tell how to make stuffed peppers.
How to play:
first, you can explore the recipe by clicking on the Recipe button. Then proceed to the kitchen to cook it. Sarah will always give you prompts about what to do next. Look at the window on the top near the picture of Sarah. Do it all correctly and as quickly as possible. You have not so much time!