Cooking school: "Benedict" eggs game
Follow us on Facebook and Youtube: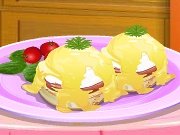 Description: Cooking school: "Benedict" eggs
Cooking is so cool! How nice it is to do something and then to treat with these family and friends! Sarah has already told you lots of recipes and today there will be a new one. It is "Benedict" Eggs. This is a special food with eggs. It also includes many other ingredients. All that we are cooking separate and form the food of theunique taste .
So, let's start to follow the simple steps that Sarah will tell us. Get ready, for a couple of minutes you'll be an expert in cooking of this delicious treat!
How to play:
arm with the mouse to control the game and do what Sarah tells you. Watch the time and do everything as quickly as possible.