Princess Soup Kitchen game
Follow us on Facebook and Youtube: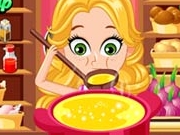 Description: Princess Soup Kitchen
In this game you will understand how cool it is to be able to cook delicious soups. After all, you probably know that the soup must be tasty and it must have the right set of products. But what if something unusual is added to the soup? It can be not only vegetables, meat and spices, but also frog legs, unicorn horns, bat wings and other unusual components of the soup. Now let's try to create this soup and see how it tastes.
How to play:
in this game you can create the most unusual soup by helping the princess cook it from a wide variety of unusual products. Pick whatever you want on the shelves of her kitchen and use the knife to chop those foods. Then you can still choose anything to your taste, and then try what happens. Use your mouse and round buttons at the bottom of the game.