Princess High School First Date game
Follow us on Facebook and Youtube: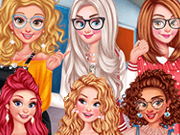 Description: Princess High School First Date
Princesses also go to school and they spend there a lot of fun. Of course, there is a lot of attention to them and girls often get an invitation to a date. In this dress up game you will find out which of the princesses are going to date, and then get together in a local cafe and order delicious ice cream. Let us join this friendly and cheerful company. You can choose dresses, hairstyles and jewelry for each of the princesses. The company of princesses in this game is quite large, which means you have a lot of work to do. Therefore, do not waste time and begin to pick out their outfits. In addition, you can take several photos of princesses in selected outfits.