Anna princess horses game
Follow us on Facebook and Youtube: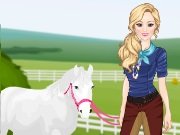 Description: Anna princess horses
This girl loves to play with the horses. From early childhood, she cares for horses and wants to become a princess horses. Today the girl will ride horses after harvesting in the stables. What dress she choose? Look how many interesting outfits she has in the wardrobe. What does she wear?
Choose clothes and dress up the mouse to the girl. Click the button SHOW to see what you got. You can change the background of the game and save the image on your computer.