Get Ready With Us Wedding Time game
Follow us on Facebook and Youtube: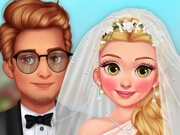 Description: Get Ready With Us Wedding Time
Every girl dreams of the perfect wedding. Everything should be smooth and beautiful here. But all the same it is, though a joyful, but troublesome period in the life of the bride. And therefore, bridesmaids often help the bride, as well as experienced specialists in organizing such events. This helps the bride to enjoy the feeling of the approaching holidays, as well as to observe how the preparations for this important event in her life and the groom are going. In addition, the bridesmaid asked you to also help with the organization of the wedding. You will be able to take on some of the hassle to make everything go great. In this wedding dress up you can choose the look for the bride. These are hairstyles, makeup, dresses, jewelry, and also choose what the groom will wear. And the best part is you can choose outfits for your bridesmaid and friend. Follow the general style and create an incredibly cool and beautiful overall photo.