Military anime style game
Follow us on Facebook and Youtube: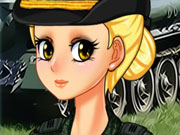 Description: Military anime style
Cool game for those who love anime cartoons and do not mind trying to choose a military uniform for a girl that decided to go to serve. In her family, all the military. Dad, mom and even grandparents. Therefore, she knows from a young age what military service is and she likes her very much. Let's help her decide what troops to serve her. Because she does not care what the troops are. She loves style and rigor in clothing. And she is ready to make a career anywhere.
Use the mouse to click on the arrows and choose the shape of the face, the color, the lipstick, the shape of the hood, the headdress, and also the military accessories.