Cooking school: Napoleon cake game
Follow us on Facebook and Youtube: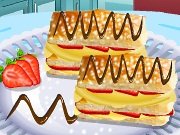 Description: Cooking school: Napoleon cake
Sarah is a good girl! It's hard to imagine how many recipes she knows! Today at her cooking school she is going to tell how to cook a Napoleon cake decorated with strawberries, and grated chocolate.
How to play:
Do you think it's hard to make a cake? Not at all! Look at Sarah's clues and do what she says. On the right panel you will see hints. Obey them by order in this game and you'll cook a very delicious cake! At the end of the game you will add grated chocolate and strawberries.
Cooking school: Napoleon cake game walkthrough: