Cooking school: Chocolate pizza game
Follow us on Facebook and Youtube: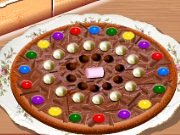 Description: Cooking school: Chocolate pizza
In the cooking school Sarah will teach you to cook tasty chocolate pizza. Carefully follow Sarah's prompts and do not hesitate. If done correctly and quickly, you'll get extra points.
How to play:
you can immediately start the game and cook pizza, read a recipe or the rules. Follow the prompts in the game in the bottom left corner. When the pizza is ready, then you can decorate it.