Biggest Burger Challenge game
Follow us on Facebook and Youtube: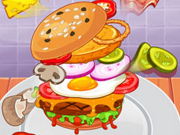 Description: Biggest Burger Challenge
If you like burgers, then you will really like this game. Here you will create burgers of various types and sizes. The game has two modes. The first is the burger challenge mode. You are challenged in which you must create the same burger as in the photo. The more accurately you repeat its composition, the more points you get. You will not be judged by a very strict jury, but it's better to guess the exact composition. If you make a mistake, then you can safely click on the special button on the right to start cooking the burger anew.
In addition, the game has a creative mode. In this mode, you can create a burger to your taste and size. Use any products to add them to the finished product. After playing enough, you may want to create such a burger in real life. Try it, it will be cool!
Played: 20907. Added: 30-01-2020, 02:03.. Categories:
Cooking