Cooking school: baklava game
Follow us on Facebook and Youtube: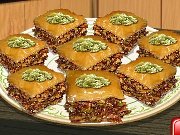 Description: Cooking school: baklava
A new recipe of Sarah from the cooking school tells how to cook sweet baklava. This dish comes to us from the Middle East. You will find honey, walnuts, pistachios and lots of other goodies in this tasty food.
How to Play:
Learn a recipe that Sarah will tell you and cook tasty baklava in the cooking school. Look at the panels that appear below and above. Open the cupboards, refrigerator and a table with the mouse.