Sarahs School: cake with pineapple game
Follow us on Facebook and Youtube: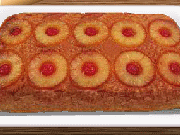 Description: Sarahs School: cake with pineapple
In today's lesson,
Sarah
will teach you to cook the cake. This is no ordinary cake. In it you will find the cherries and pineapple rings. Baked it in a form. At the bottom of the pineapple and put it after the pull out cake from the oven, then turn over the form and the bottom cake is covered with different delicious crust of sugar. Is not that cool?
How to cook and play: first you can learn cake recipe by clicking on the "recipe" and then click on the "Play" button and look at your teacher prompts her to repeat everything exactly as it will show.