Cooking school: Lime cake game
Follow us on Facebook and Youtube: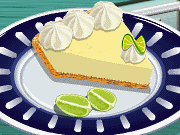 Description: Cooking school: Lime cake
Clever Sarah is cookngi the delicious lime cake today. As it would be very good for you to learn how to cook, and then treat you friends with this cake and tea!
How to play: in the game you will cook a cake, butfirst look at the tips that Sarah gives you, and repeat after her. Just a couple of minutes you will become an expert of this cake and get points for having repeated her fast and without the mistakes!