Chocolate Cupcakes Sara's Cooking Class game
Follow us on Facebook and Youtube: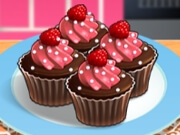 Description: Chocolate Cupcakes Sara's Cooking Class
Sara is very good at cooking. So she decided to open training courses and called them "Sara's Cooking Class." She is very accessible and understandable tells how to cook various delicious dishes. Everyone who comes to study with her can easily repeat all the steps for preparing even the most difficult dishes. After all, Sarah is a great motivator for the students of her school. She gave them stars for the correct implementation of her instructions.
Today at Sara's Cooking School you can learn how to make delicious chocolate muffins. First, place all the containers and tools you need on the table. Then find all the products you need for the current step and start preparing the text and filling. When the dough is ready, you can send it to the oven, and in the meantime, we can prepare the cream and decorations for the muffins. Sarah will watch you as you do and suggest next steps if you get a little confused.