Yummy Waffle Ice Cream game
Follow us on Facebook and Youtube: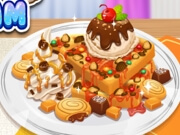 Description: Yummy Waffle Ice Cream
Do you like waffles? And ice cream? But what if you combine these sweets, and then add delicious fruits and chocolate on top? Then let's get down to preparation and bake delicious waffles with ice cream under chocolate sauce. First, let's prepare the ingredients for everyone, then check if we have the right amount of them. Then combine in a bowl to make a dough. There are still many interesting steps ahead. Hints and great prizes await you. Unlock all 10 prizes by completing all the necessary actions in this fun game.
How to play:
Use your mouse or touch the screen to make the most delicious ice cream waffles and decorate with candy and chocolate!
Played: 12609. Added: 30-03-2021, 00:48.. Categories:
Cooking