Pineapple cake game
Follow us on Facebook and Youtube: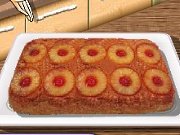 Description: Pineapple cake
You're already acquainted with Sarah. She knows so many recipes! Today she will show you how to cook an upside-downpineapplecake. If you do not know the recipe, then Sarah tells you hints.
How to play:
Look at the panel on thebottom to understand what to do next. At the beginning of the game it is quite empty on the table. You need to look in the closet to take a cutting board, pots and plates. In the refrigerator you will find all the products thatare needed to cook the cake. At the bottom right you will see a watch. Keep an eye on it. You need some time, sobake the cake before the time runs out.