Cooking school: Pavlova cake game
Follow us on Facebook and Youtube: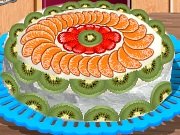 Description: Cooking school: Pavlova cake
The best teacher of cooking will show you a new recipe today. This cake was named after the famous ballerina Anna Pavlova.
How to cook:
Sarah will tell you how to cook a cake in the game, and you are going to remember and repeat after her. If you do everything quickly and correctly, you'll get extra points.