Sara cooking French waffles game
Follow us on Facebook and Youtube: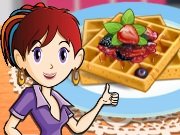 Description: Sara cooking French waffles
Sara excellent teacher and she cooks very tastily. Let's learn to cook her delicious French waffles. They can be eaten with tea or juice. I especially want to try them in the morning.
How to play:
In this game
Sara
will cook in the kitchen incredible French waffles. Surely you are buying in a store. Let's learn how to cook them at home. Use mouse and tips Sara to make it a delightful sweetness. Play accurately and without errors. So you will earn more points. Nice to get the maximum number of points at the end of the game!