Chicken cutlets game
Follow us on Facebook and Youtube: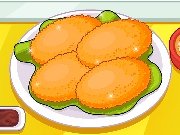 Description: Chicken cutlets
Do you know how to cook chicken cutlets? It turns out it is very easy and fast. Look how they are made in the chicken cutlet cooking game and you can easily repeat it on your own later in your kitchen.
How to play:
Look at the hints in the game. You will see a pink arrow pointing to the action that needs to be done. If you see a long arrow, you first have to hold the mouse and then move it along the arrow. If you see a short arrow, click with the mouse in that place.
Watch the time. Make cutlets quickly, otherwise they can go bad.
Played: 64323. Added: 4-04-2012, 19:24.. Categories:
Cooking
Chicken cutlets game walkthrough: