Cooking school: Sarah cooks scones game
Follow us on Facebook and Youtube: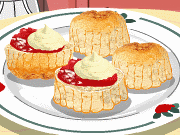 Description: Cooking school: Sarah cooks scones
Today, at the Sarah's Cooking School you are going to cook according to a very tasty and mouth-watering recipe. Scones will come out very tasty and appetizing. You only need to follow the
Sarah's
prompts and do everything exactly as she shows. In return you will receive points and bonuses, and also taste scone, you cooked, with jam.
How to play: Use your mouse and Sarah's tips and you will make it!