Kitten and a ball of yarn game
Follow us on Facebook and Youtube: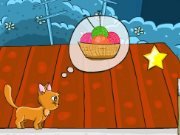 Description: Kitten and a ball of yarn
Hi! Do you love animals? And what about kittens? They are so beautiful, fluffy and cute, that want to hug and play with them. This kitten Kitty. He loves to run, jump and play with balls of knitting yarn. He will be very glad if he finds a ball and will run and jump playing with it. It sometimes happens that the ball is rolled under the couch or bed and Catty runs after it, and then the kitten falls asleep there.
In this game you can try to help the kitten Catty to catch the ball of yarn or get to it. He meets obstacles on the way and challenging puzzles. Help him to get the ball and play with it.
Control the game using the arrow keys. LEFT and RIGHT keys send him to needed sides. A key UP can make a cat jump up and jump on anything.
Sometimes you need to move objects, and then jump on them. And do not forget to collect all the stars on each level. You get more points for each completed level. There are 21 levels. There is a night owl on some levels. Click on it several times. It makes cool sound.