Crocodile Swampy game
Follow us on Facebook and Youtube: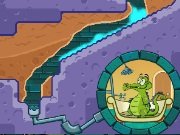 Description: Crocodile Swampy
As you know, all the animals love water. And it is very necessary for this crocodile Swampy. Help him to make the water flow from the tap and make him able to have a bath after a hard hot day. To do this, you need to carefully learn which way the water must pass through and decide how to do it best. Very good if the water passes through all the ducks, and you will get extra points. It's so nice when you get the maximum points for each level! Isn't it?
Control of the game: Use the mouse to lead the water from the puddle to crocodile's bath.
Press the left mouse button and drag it from the beginning to the end of the path of water.
Played: 43020. Added: 11-11-2014, 20:57.. Categories:
Animal