Home pets game
Follow us on Facebook and Youtube: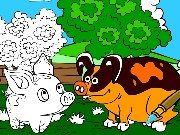 Description: Home pets
Do you like pets? Do you know what color they should be? Try to remember and find the right color for each of them in this animal coloring game.
How to paint:
take a brush and choose a color and then click on the white areas of a picture and fill them with the selected colors. You can think of fun colors for these lovely animals.
To select a new image for coloring click Next.