Shaun The Sheep Sheep Stack game
Follow us on Facebook and Youtube: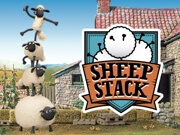 Description: Shaun The Sheep Sheep Stack
Shaun the Sheep and his friends love adventure and sweets. Therefore, nothing will stop them from stealing the cake that is in the window. To do this, they invent all sorts of tricks to get to the high window. But how to do this if the window is very high? Of course, stand on each other's heads. For this, he uses a catapult. Help these handsome men reach the window.
How to play: use your mouse to direct the direction and power of the shot to build a tower of sheep and get the cherished cake that haunts them.