Shoes Designer game
Follow us on Facebook and Youtube: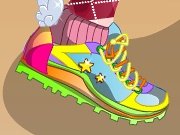 Description: Shoes Designer
Girls, who wants to try her hand at design? In this exciting online game for girls you have the opportunity to become a real fashionable designer of shoes, there won't be no high heels or tight uncomfortable shoes. Your task is to create and develop a style for sneakers. Why not to make sport fashionable and stylish?
How to play the game "Shoes Designer ":
To control the game you will need a mouse. You can change colors as you wish. Use the toolbar on the right on the game screen. You can use different patterns and stickers. You can also try on socks with different shiny patterns.