Summer Vacation Album game
Follow us on Facebook and Youtube: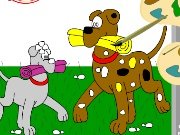 Description: Summer Vacation Album
Every girl during a busy school year is dreaming of summer vacation, when she can spend the whole days for her favorite hobbies. Each year, this dream comes true for all students, someone is going to the sea, some is going to the country, some remain in the city, but holidays are holidays, and it means leisure and entertainment. In our great online game for girls you can remember some moments of summer vacation.
How to play the game "Summer VacationAlbum":
Your task is to paint an album with pictures of the summer holidays. On the Right of the screen there is a color palette. Just click the colorwith your mouse, and then on the area youwant to paint. To switch the picture, press the «next» button.
Good luckwith the game !