Coloring Fun game
Follow us on Facebook and Youtube: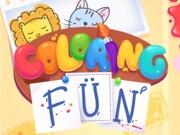 Description: Coloring Fun
A fun coloring game with cartoon pictures. In it you can choose any of 12 pictures and start it. The game has two game modes. In one, you color the picture however you want. Use any color and pencil or brush. In another, you have to color the picture as it should look. If you have chosen this mode, then carefully select the colors and see how the indicator bar at the bottom changes. It shows how many parts of the picture are left to color in order to fully complete the task. If you forgot how the picture should look, then click on the button with a question mark at the top of the game. In addition, the game has a hint in the form of a flashing part of the picture and the color on the color palette.