Panda a DJ game
Follow us on Facebook and Youtube: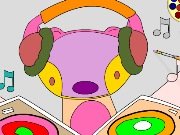 Description: Panda a DJ
In the fairytale world there are a lot of different creatures, but not only fantastic. Ordinary animals in this world are endowed with extraordinary abilities. In our wonderful online game for girls you will meet an unusual panda. This panda is a real fabulous DJ who makes music to entertain the residents of a fairytale world.
How to play the game"Paint a DJ:
Game is very easy to control, use the mouse. Paint the Panda DJ. Use the colors from the palette, which is located in the upper right corner of the game screen. You can also print a picture, when you finished painting. To do this click with the mouse on the image of a printer.
Good luck with the game!