Pet Connect game
Follow us on Facebook and Youtube: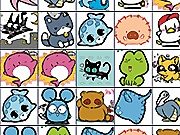 Description: Pet Connect
It is a mahjong type game with pets. If you are bored or bored of the classic versions of the mahjong game where complex images are drawn on the tiles, then this game is just for you. If you don't know, then the rules of the game are very simple. You need to remove tiles with the same images from the field of play. These tiles can be connected with a line without corners, with one corner or two. Try the game in action and you will understand what angles are involved. If you do not see identical tiles, then click the "Hint" inscription and you will see a couple of highlighted tiles that can be removed from the field right now. The level is considered completed if you removed all the tiles with the image of animals. Go through the levels and move on to the next. There you will find more complex combinations if the current level was easy for you. Games of this kind are very helpful in developing attention and short-term memory. Try to play it 5 times and you will feel this effect on yourself.