The Prom Of The Ponies game
Follow us on Facebook and Youtube: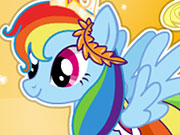 Description: The Prom Of The Ponies
In the life of each of us there is a period of time when we go to school. And ponies also love to go there. After all, there is fun, many friends and every day you learn something new. Pony's school has a special day. Today is graduation, which means that all students need to be smart and beautiful. Let's join the ponies Twilight Sparkle, Rainbow Dash, Pinkie Pie and Apple Jack. In this dress up game with famous ponies, you can choose each of them and help pick up cool outfits thanks to which they will be the brightest and most beautiful on this day.
Played: 28773. Added: 12-11-2019, 08:51.
Play other games from this developer:
Capy.com
. Categories:
My little pony