Vinyl Scratch DJ Pon-3 Dress up game
Follow us on Facebook and Youtube: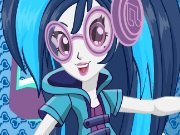 Description: Vinyl Scratch DJ Pon-3 Dress up
It's good that we have such pony as DJ Pon-3! With them, you can always relax here and stretch your legs well dancing to catchy music. This pony is also famous under the name of Vinyl Scratch. He became more popular because he has a black note near the tail. Plus he has an unusual dressin style. In general, this pony is remembered by everything and everyone wants to see it again and again!
Take the mouse and control the game to change the dress, the color of the tail and mane for our DJ. He will rock the crowd, so he needs help in choosing an outfit.