Style for Rainbow Dash game
Follow us on Facebook and Youtube: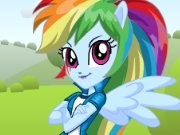 Description: Style for Rainbow Dash
Rainbow Dash, the main character of the cartoon "My Little Pony: Friendship Magic". She lives in the town of Ponyville and supports the sunny weather.
She differs from the other ponies for her beautiful iridescent tail and mane. She is the only one who has such color all over the world! Her magic and tricks are accompanied by rock music.
How to play:
for sure you want to change something in her image. In this game, you can just change anything you want in her image and add something of your own.