My Little Pony Circus Fun game
Follow us on Facebook and Youtube: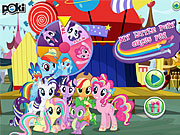 Description: My Little Pony Circus Fun
The most cheerful of ponies have gathered today to have some fun. This game is My little pony in the circus will show you how our Pets Twilight, Applejack, and Rarity go play in a circus! There they will play will be to watch the show with animals and clowns. And after that, they go play on the rides. At first, they will spin the wheel and choose who will play. Then they will play in the bulbs, connect the dots, and solve other puzzles.
In this game, you need only a mouse. You will easily guess how to play this simple game. In one of the games, you will show what kind of magic uses every pony. Use the mouse to select the desired pair. Then you will see a few balls with the faces of ponies. Locate the bulb where the pony is smiling. Except in the game, there is a short test of knowledge about My little pony. Are you ready to test your knowledge?
Girls, do you know that there is still a lot of
fun games for girls
? Follow the link and enjoy the game.