Taylor Swift's Christmas game
Follow us on Facebook and Youtube: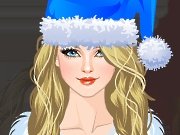 Description: Taylor Swift's Christmas
Taylor is very much involved in her career. She has a lot of touring and filming. When evercould she prepare for Christmas? And in this time she did not have time to choose a dress. It is so good that her fans always want to help her. Let's dressTaylor for a holiday in honor of Christmas. Let it be bright and elegant style.
How to play:
Use a large and varied Taylor'swardrobe. There are so many clothes that you can get lost in it. First, start from selecting a hairstyle. The girl has a gorgeous hair soshe is able to do a lot of different hairstyles. Then choose a dress. It must be in the holiday style and match with all her clothes.
If you want to see a hint, then click on the image of light bulb at the top right. To start the game first click on the key with a left arrow (right of the lamp), and if the dress is ready, then click on the mark. How is it? Got it?