My Spring Nails Design game
Follow us on Facebook and Youtube: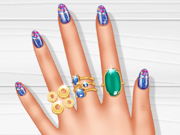 Description: My Spring Nails Design
A manicure is a special part of the jewelry that is always in sight and any girl or princess wants her to be always fresh and the best of the best. Especially this desire wakes up if spring comes or you meet friends. Who wants to be with a boring old manicure all year round? In this game, you can help the three princesses Ariel, Moana, and Rapunzel pick up a cool new manicure, and you can also decide what you want to choose for yourself.
Of course, this is not a simple monochrome nail design. You can choose various patterns, jewelry in the form of rings and bracelets, stylish watches and other jewelry without which your choice will be too simple. Try to please the princesses and consider design options for yourself.