Room for the Valentine's Day game
Follow us on Facebook and Youtube: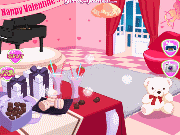 Description: Room for the Valentine's Day
On this day all the couples in love give each other flowers, gifts and declarations of love. Turn to your preparation of the room for a party. Everything should look festive and cozy today. Think about where to put the food, the music and the design of the furniture.
Click with the mouse on the hearts to decorate the room. There will be the objects selection panel of decorating elements.