Candy on Valentine's Day game
Follow us on Facebook and Youtube: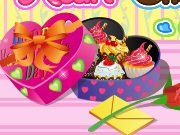 Description: Candy on Valentine's Day
Do you like to receive gifts? And it is even nicer if this is valentine and beautiful big box of candy! It is nice to open it and eat with the person who gave it. Is not it? What would you like to see in this box? In this game you just can choose the design of the box, and choose the kind of sweets and choose the materials to decorate them. You definitely will want to try one after this game!