Barbies And Kens Christmas game
Follow us on Facebook and Youtube: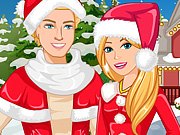 Description: Barbies And Kens Christmas
Barbie and Ken had lived together for a whole year and now are preparing to celebrate the New Year. There will be many friends and a beautiful couple need to prepare for a party in honor of the holiday. But they don't have time to finish everything. If you can help Ken and Barbie to decorate the house, the guest room, the Christmas tree and set the table? Use beautiful wreaths, garlands and toys to decorate the house. Then go into the house to decorate the fireplace and decorate the Christmas tree lush green. You will then be able to pick a nice outfit for Barbie and Ken. They create the image of Santa Claus. It will be very beautiful and fun New year!
How to play:
in this game you can help Ken to choose a beautiful decoration for home, room where Barbie and Ken. In addition you will have the opportunity to choose an outfit as Santa Claus for a young couple.