Phone Decoration game
Follow us on Facebook and Youtube: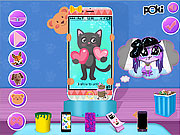 Description: Phone Decoration
Girls, do you love mobile phones? In this game you will receive a beautiful white smart phone. Externally it is very similar to a normal iPhone. But he's white! It's boring and not beautiful. At least so thinks the girl who was asked to decorate it. She loves animals and would like to help you decorate it using pictures with them. This Phone decoration game will give you an opportunity to choose the color of the screen and the phone. Then you can choose Wallpaper on the desktop and start selection of jewelry on his body. In addition, don't forget to pick up the most beautiful body. I think you will be the most beautiful smartphone and you will not want to part with it!
Played: 45270. Added: 27-02-2016, 17:46.
Play other games from this developer:
SueFun.com
. Categories:
Decorating